Skip to Content
Prevent Injuries with Our Pilates Classes in San Jose
For those who aren't familiar with Pilates Reformer, a German named Joseph Pilates invented this innovative fitness system in the early 20th century. It focuses primarily on an individual's core strength, awareness of breath, and the alignment of your spine. Pilates improves your posture, aids in the relief of aches and pains, and helps prevent injury by addressing muscular imbalances, incorrect or inefficient movements, and even overtraining.
Boutique Style Studio That Specializes in Unique Class Experiences
We offer classical Pilates movement with a fusion of modern techniques and adaptations to offer a fresh and fun fitness experience. You are able to book group sessions or private sessions that are tailored to your specific needs/areas of interest. We have something for everybody that wants to enhance their lives through activity. It's our goal at Fusion Pilates Studio to welcome you into a supportive community that believes everyone has their own journey free of judgement and we realize each and every day your practice is as unique as you are.
Please contact us directly for the details or any questions you may have. We offer flexibility in our class times and class styles.
Your First Experience with Fusion Pilates Studio we offer a free, no- pressure introductory class. At Fusion Pilates Studio, we believe that Pilates is for every type of body and every fitness level. We uphold Joseph Pilates' vision: it's our passion to help people enhance their lives through movement, we want to bring the zing back to your swing. As, Joe would say the zest of life. Fusion Pilates Intro Class is the perfect way to experience Pilates Reformer and our studio! Enjoy a 60 minute, full-body session. This session is a great way for you to experience our studio and get a feel for the atmosphere/ vibe our studio has to offer. This also allows us to see your mind body -connection and movement. We are a boutique style studio that offers a smaller more intimate class setting/size this allows for more personalized attention/ instruction to your practice and experience at our studio. We believe the practice of Pilates is a lifestyle and we would love to welcome you to our community. It's our goal at Fusion Pilates Studio to make this amazing practice available, accessible and sustainable to everyone.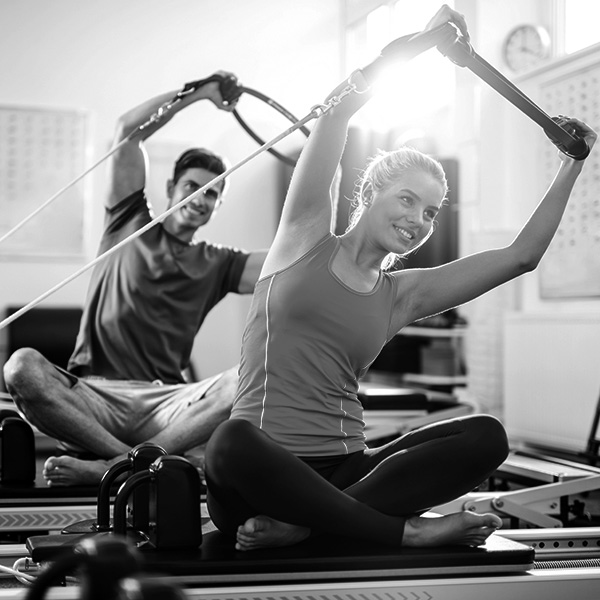 From Beginner to Advanced: Sign Up for Pilates Classes
Fusion Pilates Studio offers a wide range of Pilates Reformer classes and workshops in our San Jose Pilates studio to accommodate beginner, mixed-level, and advanced clients of all ages:
Level 1:
Ideal for beginners and those who want a safe and effective class experience to build a solid Pilates foundation. Focus on form and alignment to help you master the Pilates fundamentals, so that you can get the most out of your workout as you become more advanced. This class is ideal for all fitness abilities, is easily modified for those with physical limitations, and focuses on overall body awareness. This class is set to upbeat music to enhance your class experience.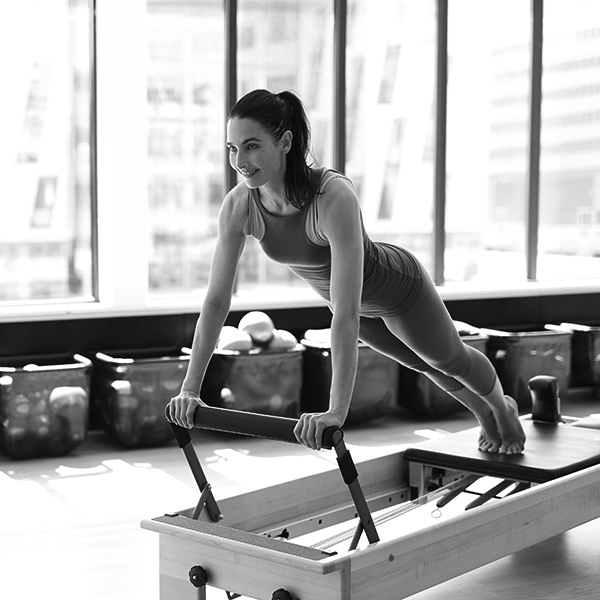 Level 2:
Continue to build your practice with more complex movements and use of equipment. Start exploring more precise and dynamic exercises. Class tempo is moderate and focuses on a steady class flow. Intermediate exercises and coordinated movements are introduced, along with progressions and balance and stability challenges to give you a more demanding workout. This class will fully challenge the body and mind. This is a moderate to fast paced class which incorporates quick transitions and will introduce you to more advanced exercises and use of the apparatus. Focused on strength, in addition to balance and stability, this class creates dynamic challenges that elevates your practice. This class is set to upbeat music to enhance your class experience.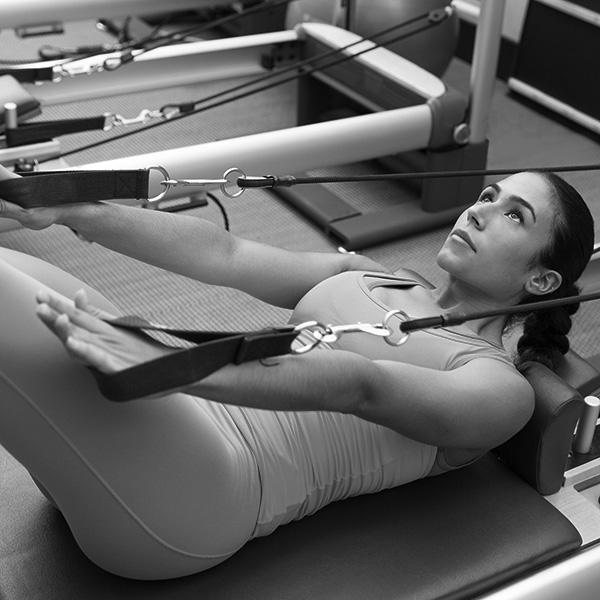 Level Advanced:
Our most advanced class level, which challenges precision and coordination, it is perfect for those who have mastered form and alignment. These advanced Pilates movements are best achieved with a deep mind-body connection created from your experience in the previous class levels.
*Requires at least 3 months experience in Fusion Pilates Studio, or prior instructor approval.
Not recommended for those with physical limitations. Pilates with a free, no-pressure introductory class.
Fusion Pilates Cardio Reformer Class
This high energy, low-impact class is perfect for the cardio junkie. Use the Pilates Reformer to experience an aerobic workout that won't stress the joints. Quick transitions incorporate multiple fitness modalities and take your practice to a new level. Sweat and pump up your heart-rate in this fun, full-body Pilates Session set to fun up beat music.
*Recommended for those already familiar with basic.
Fusion Pilates Teen
Good habits start young. Earn a competitive edge in your favorite sport. The perfect class for athletic or inactive teenagers, Fusion Pilates Teen aims to build healthy habits in young participants. Build self esteem, strong muscles, and coordination in a body that is changing and growing. Fusion Pilates is a fun, safe environment where proper movement and body alignment is learned using the Reformer.
*Available at select locations for those 14-19 – inquire with studio.
Fusion Pilates Stretch and Release Class
This class never felt so good. Distress, re-center and balance your body with apparatus-assisted stretching. involves light movement and deep stretching to leave you feeling long, loose, and ready to take on whatever the day brings. A regular stretch routine will help reduce soreness and muscle fatigue, improve performance, decrease risk of injury, and increase blood flow to your muscles. This class is set to relaxing music and aroma therapy to enhance your experience.
Fusion Pilates Bro`lates Reformer Class
Is Pilates useful for men? Consider this: Pilates was started by a man, Joseph Pilates; it's been a training vehicle for elite athletes, both men, and women, for over 50 years; and men have figured prominently as instructors and promoters of the Pilates method throughout its history.
Though men have always been part of the Pilates scene, the surge of popularity that Pilates has enjoyed in recent years has been powered to a large extent by a wave of women participants and instructors, leaving some with the impression that the Pilates method is more for women. classes. These Pilates classes will focus on strength, mobility, balance, and core power with specific emphasis placed on athletic conditioning and flexibility.
Class Times
Sunday by Appointment Only
Level 1 – Level 2: Monday-Friday
9:00-10:00am
11:00-12:00pm
4:30-5:30pm
6:00-7:00pm
7:00-8:00pm
Level 1 – Level 2: Saturday
9:00-10:00am
10:00-11:00pm
Level 2 and Above
5 Reasons Men Should Do Pilates
1. Develop often neglected muscle groups
Some of your muscles, like those that dominate your daily movements, are stronger than others, and a big part of Pilates is focusing on those muscles that don't typically get a lot of attention. Pilates Reformer is similar to Mat training in that you consciously move in certain ways to build muscles that you don't hit while lifting.
2. Improve flexibility
In general, the more muscle mass you have, the less flexible you are. But Pilates' focus on stretching helps prevent injuries and muscle strains, and increases range of motion.
3. Build core strength
Every Pilates exercise focuses on using your core to power movement in your limbs. Pilates also hits your transverse abdominals, the base ab muscle under your six-pack.
4. Live more consciously
Pilates forces you to pay attention—you've got to focus on your breath while working through each movement and concentrating on proper form. After a Pilates session, you'll feel refreshed and relaxed, which can even carry over into the next day if you're lucky.
5. Have better sex
Pilates strengthens the core and the pelvic floor, and men who practice it have greater control of this region of the body — need we say more?
Want more information about what makes Pilates so great for everyone? Check out our Facebook and Instagram for more fantastic information.
Learn More About the Many Benefits of Pilates Reformer
Are you interested in learning more about the many benefits offered by our Pilates Reformer classes in San Jose? Contact Fusion Pilates Studio today to book your spot in one of our classes or workshops. Whether you're new to the world of Pilates or someone who's enjoyed it for years, we welcome you into our growing fold!
Hello, Flexibility!
Book Your Spot in Our Pilates Classes Today